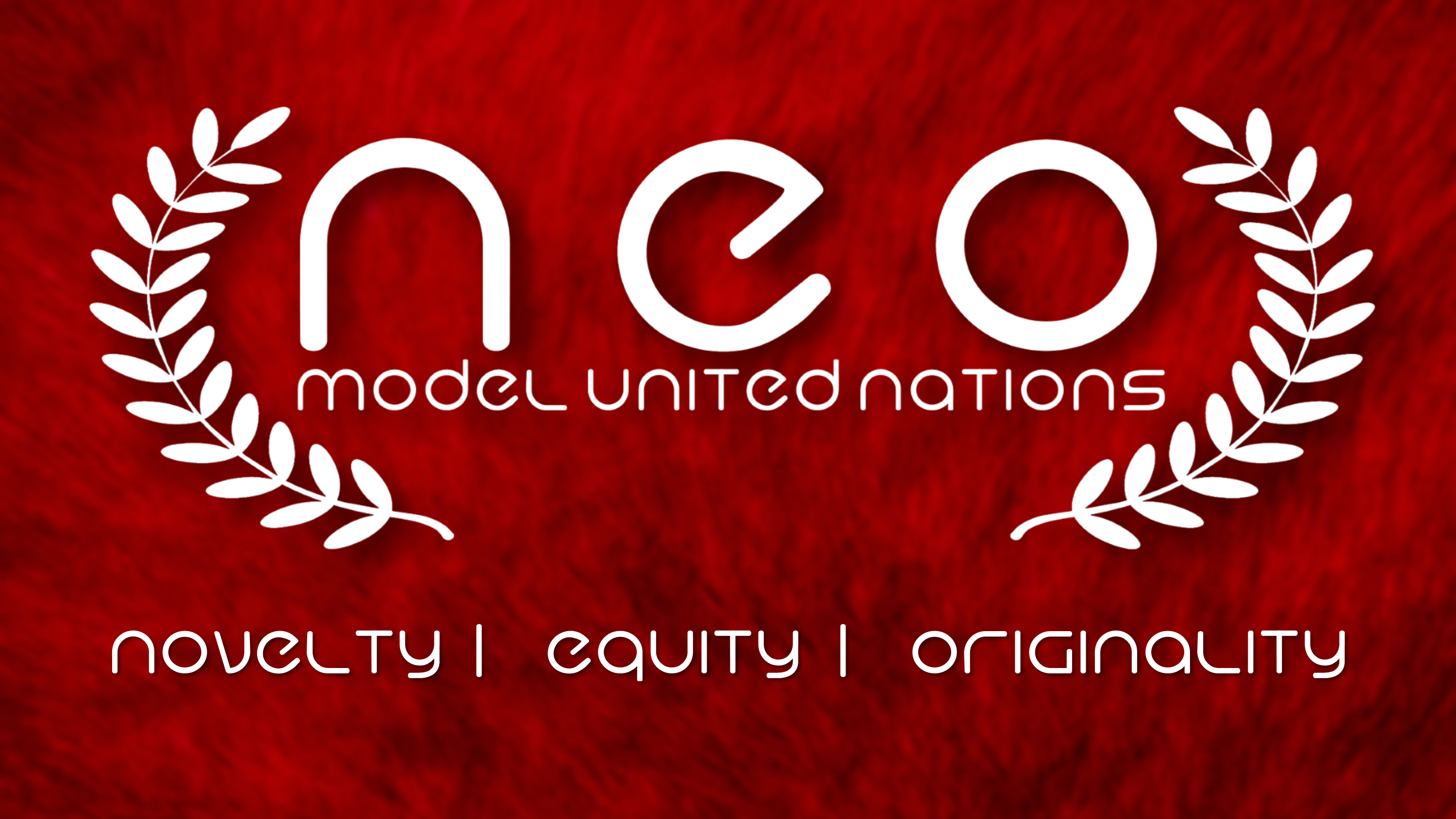 About the event
Model United Nations generally known as MUN is a three day intellectual simulation and scholastic activity aiming to enlighten the art of diplomacy, world level politics, foreign issues, and the work of United Nations. An MUN conference sights on expounding the art of public speaking, critical thinking, team work, and leadership. On the lines of United Nations bodies, MUN committees are gracefully installed with a decent number of delegates who are assigned with extensive agendas to debate upon. Each delegate strives to stay true to the actual stance of the member country/nation. At the end delegates are honored with accolades.
The mission behind the name of NEO Model United Nations (NEOMUN) is basically a combination of three revolutionary words; Novelty, Equity, and Originality. The NEOMUN aims to provide a platform for youth of any ages to discover themselves and the leader inside them in order to make them ready for the practical world by equipping them with impressive communication and negotiation skills, to make them ready to face the crucial situations to grow up and prosper their nations. NEOMUN believes that by training and enabling the youth to represent their ideas in logical and effective manner, they can learn the world level politics and methods to enrich their nations economically, socially, and politically.
Why should you sponsor?
You have a business, which is well off. The earnings are in millions. You manufacture, serve or simply sell; marketing is the basic tool we require. You and I both understand how important it is to market the brand consistently or else it would die. Marketing for a business is like water for plants. During the three days of NEOMUN, the people there will debate, discuss, enjoy and socialize. This whole time they would be grateful to the organizer and the sponsors for giving them memories they would hardly ever forget. NEO Model United Nations would comprise of 400 attendees of age 15 to 22.
As Sukkur is developing, there is an aura of diversity and novelty. It is your efforts that have made this village a town, and hopefully would be a city in a few years. There are more than 40 MUN conferences simulated in Karachi and Hyderabad and more than 100 across Pakistan. In Sukkur people are aware of the conference; however, do not have enough resources to approach the conferences of Karachi and Lahore. Hence we bring them their own Model United Nation conference.
Model United Nations is not what people is corporate. A business conference's motto is never to make money. It helps in developing. It focuses on the learning of the delegate who attended. Sponsoring for such a conference is contributing for an educational environment. The legacy we have inherited is knowledge. You and I both witness the power of knowledge and its outcomes. Your Organization could be the reason for many to grow.
Marketing today in the world of knowledgeable consumer is a difficult task. There would be up to 500 students present at the venue. They will need food and water. How productive it would be to have your name everywhere, food trays, water bottles, backdrops, tickets, Chairs, and identity cards; everywhere. Visibility is a very important factor when it comes to figures on the chart. Any sponsor of the conference can make an impression of the brand and persuade people to buy. Mostly brands offer coupons, lucky draws (laptops), special sales offers for delegates. The core catch is that these delegates are from 15-22 in age and are eager to spend.

Syed Ahmed
Mr. Syed Ahmed, President and Founder NEO Model United Nations has been doing social networking and conferences since 2016 and have been representing Sukkur city at national and international platforms. He is the CEO at The Leaders Foundation and Former Vice-President at All Pakistan British Parliamentary Debating Championship. He has also organized such interactive youth empowerment conferences at the city Sukkur. Mr. Syed Ahmed has just done intermediate from IBA Public School Sukkur.
Contact the Organizer
Contact the Organizer