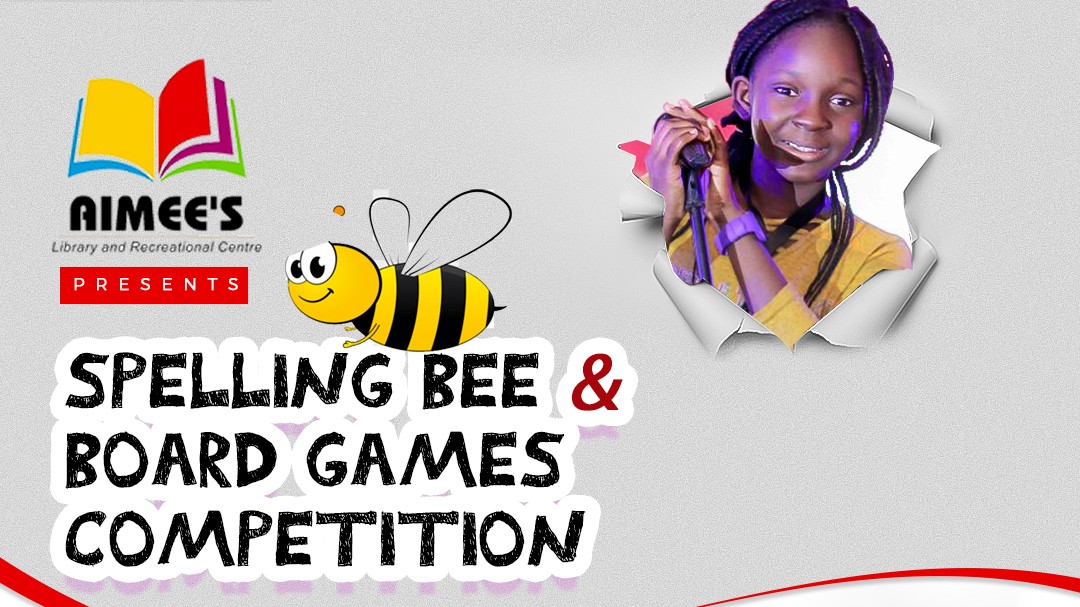 About the event
Every year, Aimee's Library Recreational Centre hosts kids not older than 13 years of age or Grade 9 at the Annual Spelling Bee Board Games Competitions (SBBG Hangout). This is the 4th Edition of the Annual competition which kicked off in 2018 advocating against Child Physical and Sexual Abuse in commemoration of Children's Day and was hosted in partnership with theBETTERman Games The 2019 Edition, tagged 'The Making of a Star' hosted hundreds of children and was a major leap for us, as we engaged in various intellectual board game competitions alongside spelling activities for children in the Junior and Senior categories.
The Champs won cash prizes, vouchers, medals, a celebrity mentorship date and other gift items as well as various recognitions both on social and print media Due to the COVID 19 pandemic that halted physical activities across the globe in 2020 we took to Instagram LIVE to host the Online Edition of the Spelling Bee.
With support from various brands, we were able to gift out shopping vouchers, books, toys, gargets and cash prizes. Since its inception, Aimee's Library Recreational Centre has collaborated with various organizations and
celebrities across the country to support eager and enthusiastic readers and spellers.
Together, we have launched them on a journey they will never forget.
With the Spelling Bee Board Games Competitions, we have furthered our purpose to encourage great readers to become even greater spellers.
The SBBG Hangout is more than a celebration of amazing spellers It is a celebration of words, majorly emphasizing that with the right spirit and focus, we can become everything we dream of.
Why should you sponsor?
This competition is always a Family Affair every year, as Children and Parents come together to bond over Educational and Fun activities, we know we are making a huge impact in their lives.
We are calling on key players in various Industry, who are keen on Sustainability and Corporate Social Responsibility, to sponsor this event.
This kind gesture in the form of cash sponsorship or sampling of company
products to our adult and children audien ce will enable us to make maximum impact in the lives of children, and the nation at large.
This annual event is a platform that encourages children to demonstrate their interest and aptitude for language and learning, helping them to harness their cognitive skills and build a healthy selfself-esteem. It instils in them, values that impact their various communities positively.
We believe that your support will help us move faster on our mission to improve the quality of education in Africa and would enable the event to be more substantial and rewarding for the children.

Emmy Afebuame
Aimee's Library and Recreational Centre is an Educational and Recreational Services provider for children. Our vision is to become Africa's most Influential, Innovative and Creative Educational Resource and Recreational Centre.
Our Edu Lounge situated at Shangisha , Magodo, Lagos offers an enabling environment for children to develop their creative and cognitive skills.
Our services include Kids' Learning Clubs, Private Tutoring, Learning Resources, Reading Adventures as well as collaborations with Diction and STEAM organizations at our Hub.
We host an Annual Spelling Bee & Board Games Competitions as one of our Biblio-related Events where we host, showcase and further encourage great readers to be great spellers.
Contact the Organizer
Contact the Organizer