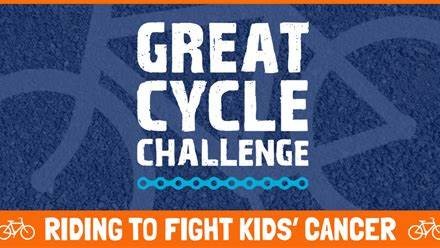 About the event
Great Cycle Challenge started in 2015, and after just 5 years, the event has grown to become one of the biggest cycling events in the United States.
People of all ages, abilities and from every state across the country set themselves a personal riding goal and challenge themselves to pedal to fight kids' cancer. This year the challenge will take place throughout the month of September.
In 5 years, our community of riders from all 50 states has ridden a total of 18,831,310 miles, and together we've raised $24,615,507 in support of research to develop better treatments and find a cure for childhood cancer.
Why? Because over 15,700 American children are diagnosed with cancer every year, and sadly, 38 children die every week.
We're riding to give these kids the brighter futures they deserve, and we believe that any one individual can make their personal impact to fight cancer and save little lives...
So we're calling on all Americans to get on their bikes this September and join our movement to kick cancer's butt!
Great Cycle Challenge USA is a national Children's Cancer Research Fund (CCRF) fundraising initiative held throughout September.
OUR VISION
Our vision is a world without cancer where all kids are living life, NOT fighting for it.
Why should you sponsor?
This event is the biggest event in children cancer foundation in the USA. It is a challenge that challenges the people involved, but also the entire USA could compete.in. To help with the research in children cancer, and cancer research itself. Truly it will bring a great smile and well doing for a sponsor. Not only will you see the ones it will help, but you will see all the riders in Time Square.

Kevin callahan
My name is Kevin Callahan i'm 33 years old. I have been involved with this event for two years, but this third year I want to really be a key player in my state. I live in Wickenburg, AZ and drive Semi Trucks OTR. I have been involved with The Mesa Thunderbird Lions Club. This is a non-profit organization in which helps with vision, hearing, and other world issues. I also once traveled to the UN Center in New York City fora worldwide Diplomatic issue for the Lion's Club. As for the trusting part, I can say i've done my mistakes where I truly beleive some wouldn't trust me, but with the upside its not about trusting me. Its the benefit of just helping a very important cause for the children in the future and present time. I hope this helps with who I am.
Contact the Organizer
Contact the Organizer