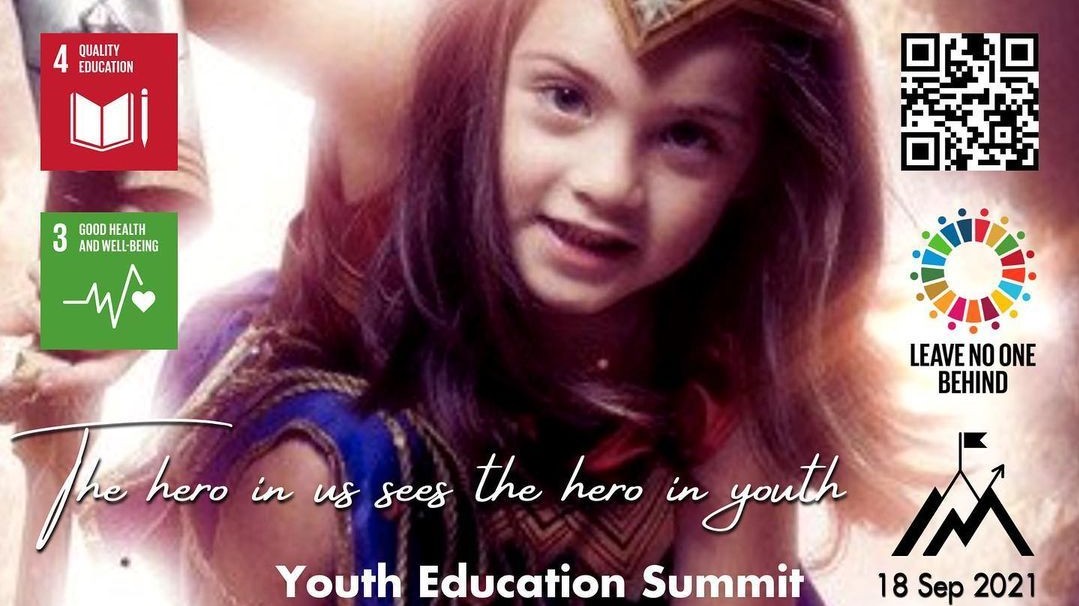 About the event
We are Aunua Heroes and Aunua Academy - We're living in a new world where humanity is asking, how do we navigate the challenges of Education and Wellbeing in a post pandemic world. Our mission is to INSPIRE and EMPOWER 1 million young learners by 2030 to grow their inner hero and build a prosperous future for people and planet. As part of our GeniusU Community 5.0 plan to realise our vision, we are promoting a Youth Education Summit to CHAMPION Youth, Quality Education and Good Health & Wellbeing.
Call to Action: The Youth Education Summit (Y.E.S) is a call to action for everyone to be CHAMPIONS of YOUth, Quality Education and Wellbeing… Will YOU say Y.E.S to being a CHAMPION for YOUth? Join our Youth Education Summit (Y.E.S) on Sept 18 2021 for 24 hours of Inspiration & Entertainment as we CHAMPION YOUth around the world with all the power speakers giving speeches and guidance to the young children! You don't have to do life on your own… join our community of students, families and educators doing life and learning together. Go ahead and pause this video and hit play on our Aunua Academy TV to watch my family share and invitation to the event. We'd love for you to be a part of our vision to INSPIRE & EMPOWER 1 million young learners by 2030 to grow their inner hero & build a prosperous future for people and planet - The world needs your Hero… will you answer the call?
Problem: As a parent and youth mentor, navigating the challenges of learning and life during the pandemic had a massive impact on our family wellbeing and progress - UNICEF reported that the pandemic disrupted education for 1.6 billion children globally, and World Bank estimates that this generation of learners will miss out on $10 Trillion in earnings over time.
Payoff: Will YOU say Y.E.S to being a CHAMPION for YOUth? We're bringing students, families and educators together for our Youth Education Summit (Y.E.S) on Sept 18 2021 for 24 hours of Inspiration & Entertainment as we CHAMPION YOUth around the world!
Story: As working parents who are not teachers, we were thrust into the world of supporting our children's education - managing learning schedules, figuring out maths concepts we are not familiar with and juggling the frustration, anxiety and loneliness that comes with lack of human contact with family, friends and peers… It was not pretty, and while we took advantage of more time together at home, some days we were pulling our hair out… or losing it! We needed help! We found our support in a virtual community of students, educators and families who were looking for the same thing, and have learned new ways and tools to help us live and love our best life.
How to: We're so excited about the summit, and we have got a comprehensive plan in place to build our community of followers into raving fans.
Testimonial: Here's what one of our fans, Calina (12 from Lebanon) had to say about an event we ran earlier this year "… it was awesome. It taught me so much and helped me to gain confidence and to get to know myself better. And learn where my strengths are and even my weaker points, where I should work on more. Since I joined Aunua Camp I am getting inspired every day and I want to tell everyone – the change begins with YOU."
Cautionary Tale: There are so many families (like the Millers) out there struggling with the impact the pandemic has had on their education and wellbeing - they know deeply that there is a better way, and long for it, but have lost hope trying to make it work on their own - this has made their situation worse, and they are now at or passed breaking point.
Irresistible Invitation: I am reminded of Hellen Keller's wisdom - "Alone we can do so little; together we can do so much." WE are the CHAMPIONS ... will YOU join the movement?
Why should you sponsor?
1. To help youth find their inner power by inviting more inspirational speakers.
2. To meet the ESG company guidelines.
2. To share the broadcasting power of our channels and gain brand recognition from our audience/community.
4. To elevate the reputation.
5. Product promotion.
Teddy Wang
Here is a short message from our ngo founders,
"Hi, I'm Karina Murray!
I'm the founder and CEO of AUNUA Academy, but most importantly, my role in life is being a mother. Just like every other parent, I have many fears for my children's future. This is what compelled me to take a leap of faith.
​I dedicated the past two years of my life working relentlessly building AUNUA Academy, as I knew that every child and parent needed to be heard and I was determined to support them and give them a voice."
https://www.linkedin.com/in/karina-murray-169361161/
"Hi, I'm Rich Mullens!
After spending the last 20 years building and running businesses and charities around the world, I have decided to pursue my calling by helping young people and their families live and love their best lives.

Through my new enterprise, Aunua Heroes, we teach children how to consciously tap into their superpowers to create positive change in their lives, homes, schools and communities. Using their miraculous minds and hearts to discover their talents, passions, purpose and personality from a young age with guidance and tools so they can impact their life and others. Teaching them that they all have a reason for being and helping each child seek greater purpose and meaning in the world with simple tools and strategies."
https://www.linkedin.com/in/richmullens/
Contact the Organizer
Contact the Organizer